Teens, ages 13 and up, can receive services with or without parental consent. No or low cost services are provided by most providers.
Services Provided 
Pregnancy testing
HIV / STD testing
Education and counseling
Free condoms
Teen Health Centers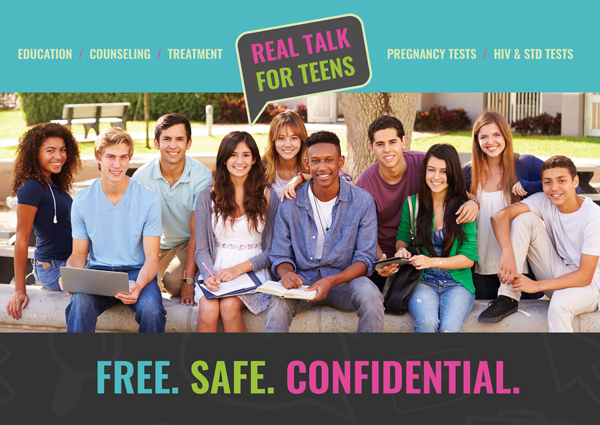 Free & confidential HIV/STD testing, pregnancy testing, and education for 13 - 19 year olds at the following locations:
Andrew Jackson High School
3816 North Main Street

Englewood High School
4412 Barnes Road South

Jean Ribault High School
3701 Winton Drive

Robert E. Lee High School
1200 McDuff Avenue South

Sandalwood High School
2750 John Prom Boulevard

Terry Parker High School
8015 Parker School Road

Westside High School 
5530 Firestone Road

Ed White High School
1700 Old Middleburg Road North

Fletcher High School
700 Seagate Avenue

First Coast High School
590 Duval Station Road
*Early release days: 10:30 a.m. - 12:45 p.m.
Download the Teen Health Center Brochure.
Download the Teen Health Center Calendar for January 2020 - May 2020.
View the Teen Health Center Education Topics for the 2019-2020 school year.
Additional Resources 
JASMYN
923 Peninsular Place
904-389-3857
Free & confidential services for 13-23 year olds.
HIV / STD testing
Support groups
Health education
Free condoms
Youth leadership programs
Drop-in center
---
Free, anonymous, and reliable responses to health questions for 12-18 year olds.  This is an App/text messaging program; text NEFLTeen to 66746 to opt-in to the service and then submit your questions.
---
United Way 2-1-1
Dial 211 or 904-632-0600
Available 24 hours a day, 365 days a year.
Providing information and referrals for:
Emergency financial assistance
Medical needs and assistance
Child/adolescent/adult mental health and substance abuse
Food, shelter and clothing
Support groups and people with disabilities
HIV/AIDS information and testing
Victims of abuse or crime
Adult, child and family services
24-hour suicide and crisis intervention and prevention
---
National Sexual Health Websites
Go Ask Alice   
Information on a variety of health topics for teens including sexual and reproductive health, by Health Promotion at Columbia University
I Wanna Know!
Sexual health information for teens by the American Sexual Health Association
Sex, Etc.
Sexual health information for teens, by Answer and Rutgers University
Stay Teen
Sexual health information for teens by the National Campaign to Prevent Teen and Unplanned Pregnancy
CDC "Get Tested"
Enter zip code or City, State for local STD/HIV testing sites